Otro caso de Fraude en la masonería.
En la Logia Hermes 7, perteneciente a la Gran Logia de Costa Rica, también han habido fraudes en el pasado.
Específicamente los cubanos Amel González, y el Ernesto San Martín, quienes reportaban a algunos miembros que no eran de su agrado como "morosos", solamente para echarse a la bolsa las cuotas mensuales de membresía. Este par, al ser delatatos ante la Gran Maestría, confabularon un plan para denunciar a Róger Acuña Valverde a lo interno, por ser defensor de la comunidad LGBTI y luego de una intentona fallida de expulsión, salieron huyendo a Miami con el botín robado. Eso sucedió en el 2014. El Compañero Masón Róger Acuña tramitó su salida oficial y definitiva de la mal llamada Masonería de Costa Rica desde el 2013, al darse cuenta del tipo de porquerías que estaban sucediendo mes a mes.
La Logia de la Luz 2 fue disuelta por el Gran Maestro Juan Diego Castro debido a que se encontraron a miembros robando dinero de la misma.
Acá dejamos la noticia de Inglaterra, donde también es común la robadera, el fraude y la mentira.
Enlace: https://www.bbc.com/news/uk-northern-ireland-42341926
A former senior member of the Freemasons has been jailed for a year after he admitted stealing over £120,000 from his own lodge.
William Murphy, of Broomhill Park, Magheralin, will serve a further year on supervised licence.
The judge at Belfast Crown Court told Murphy he found "no exceptional circumstances" that would allow him to suspend his 12 months in prison.
In May, the 63-year-old pleaded not guilty to a total of 15 charges.
But three months later, the bankrupt County Down accountant was re-arraigned on all charges, and pleaded guilty to:
One charge of fraud by abuse of position
Fourteen counts of stealing a total of £121,504 from the Provincial Grand Lodge of Antrim
The fraud took place over a five-year period from 2006-2011.
In September 2014, a member of the Provincial Grand Lodge of Antrim made a complaint to police that Murphy had stolen the money while treasurer of the lodge.
The fraud came to light in 2012 when the lodge employed new auditors who conducted a review of its financial affairs.
Two signatures
The cheques used in the fraud needed two signatures but for ease of business, they were already pre-signed by another member of the lodge, allowing Murphy to add his signature to the cheque which he then used to make fraudulent payments.
One cheque for £24,000 was paid by Murphy to HM Revenue and Customs to settle a civil tax liability to Dunmurry-based Nulife Engineering; Murphy was a company secretary but held no shares with the firm.
Murphy was bankrupted in October 2014 and lived in a one-bedroom flat in Magheralin valued at £28,000.
During two police interviews, he denied carrying out the fraud, citing his "mental health issues" and saying he could not recall the matters.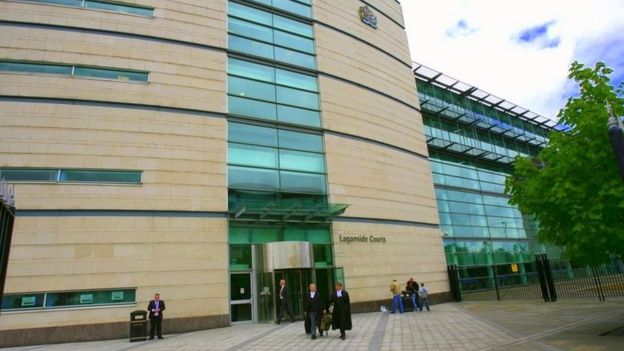 But he later admitted to police that he "made a mistake" in using a lodge cheque to settle the £24,000 tax bill owed to HMRC.
A defence lawyer told the court that Murphy was estranged from his wife, had "only one friend in life", and was now an "ostracised individual" because of his offending.
He said that Murphy had been "highly stressed" over court proceedings, had ongoing physical and mental health problems, including suffering from depression and suicidal indications.
The defence barrister added that a doctor's report had "raised concerns about the effect custody would have on him" because of mental health issues
Stating that Murphy came before the court with a clear criminal record, his lawyer said that "from the get-go he was not using the money to fund a lavish lifestyle".
The judge said the lodge's "lax procedures" had allowed Murphy to carry out his fraud using the pre-signed cheques.
He told Murphy: "This gave you substantial power and you used that power in the breach of trust placed in you as treasurer of the lodge.
"This is clearly a breach of trust case and there was some degree of sophistication, however, when you stand back and look at it, the fraud was always going to be detected and the trail would lead back to your door.
The judge said the first half of Murphy's two-year sentence should be spent in prison, and the rest on licence.
He also made a confiscation order for £28,000, and gave Murphy six months to pay this money back the money to the lodge.